The Ticking Of A Pocket Watch
April 13, 2018
Fail, fail.
Get well I tell 'em.
the whole world's dying, but if you
could stop the constant ticking of a
pocket watch.
time is rattling.
we're all just rattling.
Rambling, wondering,
Folding into a napkin at a diner
Where the pancakes have Mickey Mouse ears,
And the coffee tastes like a dream
And the waitresses treat you like
You're a human
Which is small which isn't so bad at all
And time still rattles it shakes and bends
Screams like it's Otis Redding on a wild night
Feels like an atom before it's split
Leaving blood-red craters in Japan.
Time is love.
It's everything Joni Mitchell gave us in Blue
Setting nature harmonious and poetic
Like the bond between us
Like Dylan & Hendrix.
It's self-exploration grooved between long,
greasy hair, rag-tag beards, and the smell
Of good, smelly bud.
From the thrones at Versailles and the kings
sitting in Oval Offices barring religions from
entering in the "Land of the Free."
Time is obscure.
Time has no order
yet we remain here to make sense of it all,
but we're so small.
But I wanna be small
and tall.
So please call
me a big space ship
and haul me to a new planet
only small and tall
enough for Big Me.
No pocket watches allowed,
on this here planet.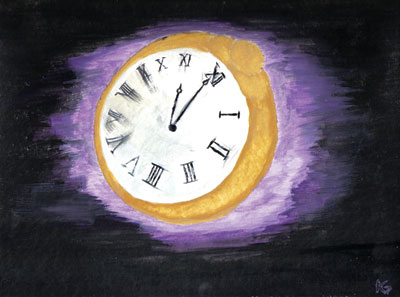 © Kyle G., Clarksville, TN