crickets in my clothing
April 6, 2018
a mockery of love, this puppetry,
for I am but a facsimile of all your crowning precision,
posed by the cowardice of lovers' fragile fingers. 
one day you will fall in love and I will fall asleep,
my skeleton in grievance, hungering for the pleasantries of a passing fantasy. 
the hours are long when you are cold and worn,
and we are hallucinating masterpieces on the canvas of the ceiling,
always wondering if all that is meaningless is truly without meaning. 
the night is begging me to see that all you can ever be is lovely
and that is why I cannot complain that you could never love me.
our aching limbs are coaxing the crickets from our clothing,
lessening the loneliness that I know is only encroaching.
I can still feel the ghost of a spine gnawing at my body, 
but the sensation is an addict's morphine permeated head
and I wouldn't be the same without my hazy bones and IV dripping sustenance. 
possibilities allure to our critique like incisors in blistering opaline,  
their wingtips coruscating like jewelry devoured by the sea
as we sit in springtime's guillotine, tying our tongues to budding trees. 
if I truly am the organum that you've been whistling, 
then I should owe you an attempt to be every phantasm you see in me. 
feather headaches spin for miles but my
lips still stretch like crimson petals 
around your name like velveteen.
the moon is begging me to see that all I can ever be is lonely, 
and that is why I cannot complain that no one could ever love me. 
now silence slowly blossoms like tumors upon our frames like daffodils, 
and I am conducting symphonies of you, just like I always used to do,
telling them all to play the same sad tune.
I should bind my heartache to a romanticism possessed by broken bone,
as these lonesome lashes plagued by gilded dopamine
spill their oceans endlessly
upon the crickets that dwell inside my clothing.
they are screaming, begging me to see
that all I can ever be
is the travesty of a different me,
and that is why I cannot complain
that love could do me nothing.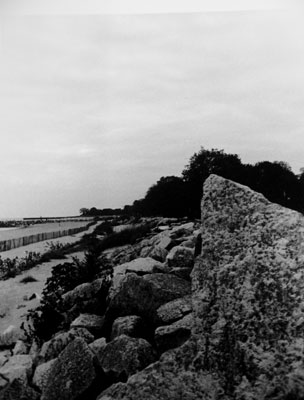 © Sean M., Apple Valley, MN