Shredded Glass
April 6, 2018
Hidden;
I am hidden under faint wood that's been spun and flipped and teetered multiple my entity.
Humming;
the humming of constant puberty
being rid of uninterrupted work alongside restless perspiration.
Footsteps;
feet climbing tile squares
promising an end to all who live in despair, unwilling to advance.
Bum bum Bum bum Bum bum
Door;
a futile door
between us and it.
Barrel;
the barrel displaying
its power of dominance over everyone and everything its front.
Sound;
sound I will very soon
forget like breath and rhythm me.
Bum bum... Bum bum... Bum bum…
Shrieks;
shrieks and wails cascading
down the halls like an avalanche.
Blood;
blood through and through
pages of my books I held every day.
Life;
a life amused by spring
now scattering in directions unknown.
bum bum… bum bum…… bum………
Grim.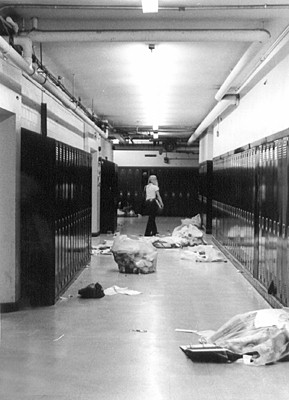 © Halsey S., Marblehead, MA