The Triceratops' Treacherous Trek
March 27, 2018
Searching for supper, a thundering noise is heard off in the distance… filled with upright fear.
Frozen in my footsteps, I take a step, glancing behind is a gigantic, gnashing Trex!
Desperately escaping his massive jaws, in the chaos, I scramble into the thick forest.
The dark, damp, and dull night rises, as I look all around adagio.
Phew! He is nowhere to be seen! Now how can I escape?
An image engages the corner of my eye . . .  scared and helpless. . . .
A luscious, large, lane for me to lose the Trex!
Fearfully, I'm rushing forward, the wind whipping my face.
Crash! A palm tree collapses, blocking my path!
Ahead, I frantically forge an overgrown path.
I'm trying to flee without fear.
Running with agility and anxiety.
I then turn around.
He's catching up!
Too late.
Dead.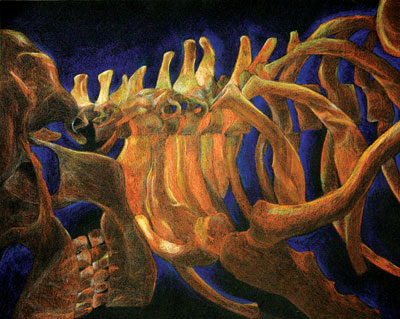 © Amy Z., Edmond, OK