The Fluidity of Ink
April 5, 2018
Ink is more than pigmented alcohol-
Ink is more than a drying stain.
Ink is my fingerprint, unfurled and placed into horizontal pillars-
Ink is the foundation of a palace I have built, paragraph by paragraph.
Ink is the shadow of my breath left on a page-
Ink is what I have baptized with ambrosia so it can speak when my vocal cords have tumbled across the vertebrae of my neck.
Ink is my RNA, the vital supervisor of the fibers within my bones.
Ink is the power of Achilles found in the tendons of my hands, of my arms, as they flood documents with poetry.
Ink is the force that brings my heart out of my chest to be displayed on a canvas, beating with relish.
Ink is my weakness, leaving me covered in vulnerability and goosebumps.
Ink is the superpower I worked so hard to acquire, and yet seems to have been with me my entire life.
Ink is my competition-
Ink is the sustenance of other writers who have their own special blend of liquid expression.
Ink is the infallible gasoline that rushes through my veins as I find myself penning horror stories at 3:03 AM. when I am the most paranoid.
Ink is my weapon of choice,
Ink is the whip I brandish as I slices through silence without making a single vibration flit through the air.
Ink is the poison I have picked to eat away at me insidiously-
Ink is the eater of cliches, the bane of the butterflies that swim in your stomach.
Ink is the tool of a mad man and the grace that covers him with immunity.

Ink is my passionate lover, with whom I couldn't live without-
Ink is my concubine, and I its extravagant mistress.
Ink is what hounds me until I use it to write down the will of my aching tongue.
Ink is my medication when the antidepressants lose their splendour,
Ink is what sustains me when the lying worm of darkness slips through in through my pores.
Ink is my owner, my master;
Ink is my slave, my subservient donor.
Ink is an idea, like dark matter as it holds the galaxy together.
Ink is open air as the disturbance of sound drifts away, and applause replaces it.
Ink is what forged my veins, and placed leeches over them so I could extract a delicacy of words.
Ink is the antidote for a mind pierced by loneliness;
Ink is a medium who gives you its form to manipulate and expand.
Ink is the goddess of communication,
Ink is the god who pushes you to the edge of insanity.
Ink is more than ineffable- all because;
Ink
Is.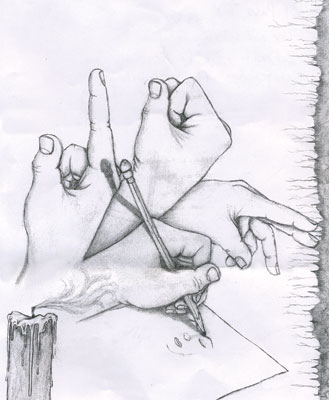 © Christopher M., El Paso, TX