Beauty in Milwaukee
March 28, 2018
Heading in through the first set of doors,
I'm nervous but ready for the fun.
Beauty hides behind the door.
Through a second set of doors open,
humidity hits me like a wall.
I open my eyes and the beauty of hundreds of butterflies fill the room.
Looking around, I stay away from the butterflies.
My mom tells me to relax and I start walking.
I calm  at their beauty.
My eyes lock on a butterfly.
The butterfly locks its eyes on me.
The beauty flies to me as my nerves rise.
I stick my arm and hand out, ready for the butterfly to land.
The butterfly gets closer and closer.
Beauty overcomes my nervous feelings.
Lands on my arm,
my nervousness turns to excitement.
The beauty of the butterfly is indescribable up close.
The butterfly flies away and Mom tells me, "We have to leave."
I watch the butterfly fly away.
I watch beauty fly away.
I start to leave,
crossing through the doors
with beauty now behind its doors.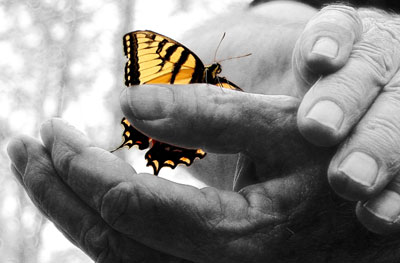 © Katie K., Macon, GA