A Blue Friend
March 28, 2018
Barely opening the door, warmness surrounds me as I squeeze through, avoiding the butterfly's escape.
Unique wings flash, flutter, and fly around as different glimpses of bold colors grab your attention.
Thick plants of forest greens and flowers fill the room, the calming sound of water filtering through the room.
The sudden movement of a blue butterfly comes near, as I stay still waiting for it to softly land.
Excitement and joy causes nerves to tingle as the touch of six legs tiptoe upon sensitive skin.
Relaxed , a gentle mouth unfolds to kiss the top of your finger with kindness-- a gesture of friendship.
Fragments of blue hues sparkle off the wings of my small friend, so beautiful you fall into temptation.
Loss of control causes a quick action, the fragile expenditures leave blue powder upon your hand.
Young and afraid, the butterfly now sits bend and broken, unable to to continue life in flight.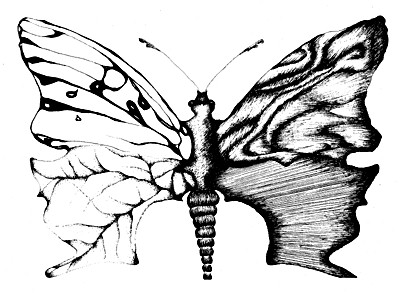 © Cara L., Cheny, WA