The Watercolor Garden
March 28, 2018
Water, palette, brush in hand.
I saturate my canvas, the garden forming in my mind.
The garden grows, nourished by the earth and the water.
Color explodes in the garden.
Pigments swirl and travel along the rivers.
They radiate, blending, creating color.
Life, built from water and color.
Plants aren't enough, and little critters crawl into the edges of my mind.
Caterpillars roam the garden, exploring their life.
Beautiful, they curl into their cocoons.
The garden goes quiet for a moment, patiently waiting for their return.
When they emerge, uncertain, unsteady, and cautious, they are truly beautiful.
Wings like satin, like glass, like art.
They're exquisite, fragile, and I want to protect them.
But they yearn to fly, so I let them go, and they learn to use their wings.
Explore, and discover the world around you.
Delight all you meet with your colors, make the world as beautiful as you.
Bring them to this garden paradise, where they may be free to learn and explore.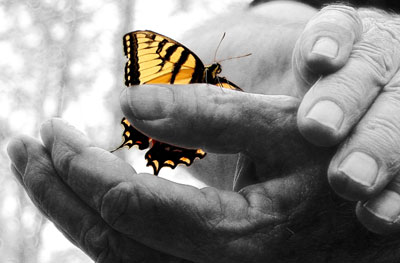 © Katie K., Macon, GA