Great Grandma's Memories, Today's History
March 28, 2018
Click, clunk. Horseshoes played music as they tapped on brick streets.
I traveled downtown to dance, but became distracted by a worker in the auto shop.
Bang, boom, bang. Sweating from frustration and charming from determination.
Rummaging through my purse, I gather three pennies. I skip down the street, smirking.
I purchase three candy sticks: strawberry, cherry, and orange. Quickly, I hustle back to the auto shop.
Leaning up against the window, the worker glanced towards me. I waved the sticks and he pushed open the door, welcoming me in.
"And that, my dear, was how I met your great grandfather." Smiling, she rummaged through her bag.
"Strawberry, cherry, and orange. Your great grandfather and I celebrated every year with these."
Cautiously, I unwrapped the thin plastic. It looked like a vintage candy cane.
Great Grandma and Great Grandpa reunited once again. The funeral, in one week.
I searched local candy stores. Hundreds of suckers, no candy sticks, frustrated like Great Grandpa.
Click, clunk. Click, clunk. The horseshoes ringing like bells, I knew where I had to travel: The Old Streets of Milwaukee.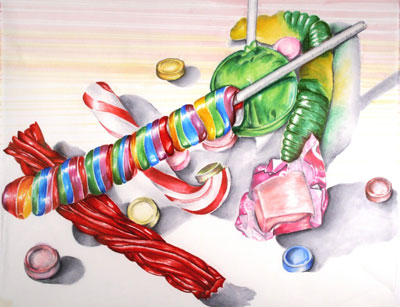 © Jamie B., Fairport, NY