Flight- The Puelicher Butterfly Vivarium
March 27, 2018
I can fly, I can fly!
My bright black & yellow wings flap as I fly,
the tourists watching as my wings wisp.
Why had I never tried flying before?
I can fly, I can fly!
My wings tire as I prepare for landing on a brown bush.
I hear an ear-splitting scream.
What was that?
My ears ring as I try to comprehend what happened.
It's moving.
I freeze.
The brown bush is moving. What do I do?
I can't fly.
I'm frozen like a pond in winter.
I've never experienced this before.
Will I ever make it home?
I can do this, its just a moving bush.
Okay, okay, I'm going to take off now.
It's a straight shot back home.
Wait, what if I can't fly anymore?
No, I can fly, I can fly.
I make my way up into the air, back over to my rock.
It was my first time flying but its forsure my last time.
Why didn't the other flyers warn me about moving bushes?

As I soar towards my home I look back.
My goodness it was a human's head.
I will never take flight again.
I can't fly.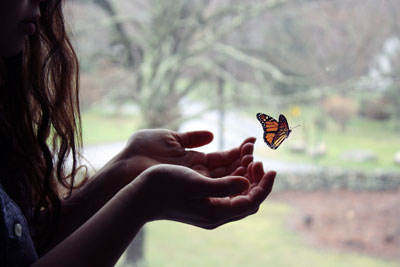 © Sandy H., Woodbridge, CT