The Familiar Hand at Eye Level
March 27, 2018
My father guides me towards a dark, gloomy room.
The rough rigid carpet turns to sweltering sand beneath my feet.
A blazing sun begins to burn amongst my skin.
Afraid and abandoned, my hand empty. 
Pyramids around me and people brainwashed marching in the same direction.
I follow, frantically looking for the familiar hand at eye level.
"Djed-Hor…" "Pharoah…" "Teos…"
repeated under threatening harsh, weak voices.
Yelling and screaming, suddenly surrounds me.
A man wearing gold with a cat stands above the crowd.
Men with whips shout commands at those carrying rocks, and bricks.
But I continue to slither through the crowd, no familiar hand at eye level.
The scorching sand becomes a rocky carpet once more, while pyramids melt into the walls.
I continue marching through the room turning back looking to find the desert has vanished.
Comforted by the familiar hand entangled with my own, behind us Djed-Hor alone
locked away, as untold lingering stories leak out from his coffin.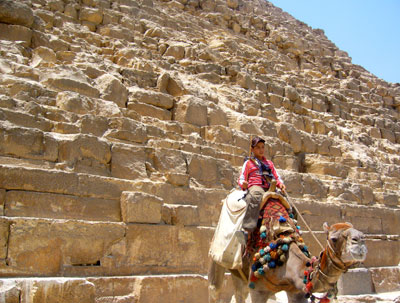 © Elena N., Fair Lawn, NJ