Darkness Detonates, The Hell Creek Diorama
March 27, 2018
Day by day, darker and darker. . .
panic and fear sprint through my body as
dust and debris descend.
Darker.
Empty stomachs growl like monsters.
Shadows tear out darkness from inside.
Hunger-the puppeteer-takes control.
Darker.
Livid fire glows in wide eyes as
sharp teeth sink into a brother's flesh.
Ethics: extinct. Friends: food.
Darker.
Gasp by gasp, darker and darker. . .
colossal feet shake the earth, stomping for life.
Death and destruction steal our existence.
Darker. . . Bam. . .
Nothingness.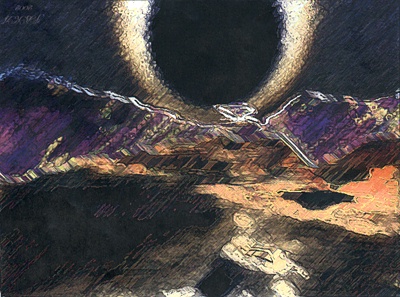 © Jason B., Colorado Springs, CO