Which way should I go?
March 25, 2018
I take one step forward and then I am forced to take one huge leap back.
Constantly stuck in the same position because I haven't found a way out of this one.
I contemplate on how differently things would be if I went down one road, and how it would be the total opposite if I went down the other.
It is either I paint on the fake smile or continue down the path of denial.
I could risk it or just play it safe.
I am trying to find a way that doesn't change my place,
Doesn't change the way you look at me.
Which way should I go?
I really don't know.
I am really starting to think this life isn't mine.
I am continuing to only worry about what is going to change.
Worrying about what they will think.
What they will say,
And what they will do.
I am too afraid to change how it is now.
I am too afraid to reverse the person everyone assumes me to be.
I feel like once they know,
I will be blamed.
They think it is a decision.
Something you can just wake up and decide to be.
A lifestyle that can be "cured" by talking to someone with a PHD,
Or with a pastor over your shoulder talking about sin and who you should be.
Some stereotypical thing for them to say,
Would be, " Why did you choose to be this way?"
It is exhaustive.
Always having to be thinking about how it should go.
Knowing what decision I should make, but being too scared.
I don't want to be scared anymore.
I no longer want to be afraid of someone finding out,
Or ashamed when someone does.
Which way should I go?
I need an answer because I am still stuck here at this fork in the road.
I just want you guys to say something,
Say something about this topic so I know it's ok.
So I know I'm not some mistake,
Not a person that is not approved of.
Why can't what I want just be enough,
For me to make up my mind?
It's not like I am one of a kind.
There are many others out there just like me,
But I still feel all alone.
I still feel like until I can scream it to the world, and take anything the world says back I am nothing.
I am helpless with no one to turn to.
This is what my life is right now.
I am 13 and this is what is going on in my head,
And I need a person to lean on.
When I am feeling too weak,
I need that person to stand by and make sure I don't fall,
But that's not a reality.
I just really don't know.
Which way should I go?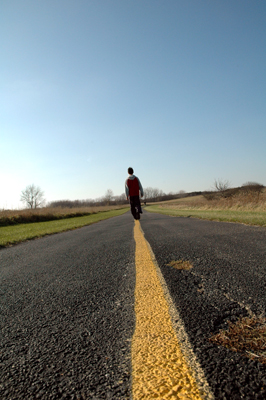 © Seita O., Palatine, IL