The Sky was Black
March 17, 2018
He stood at the alley
As the rain hailed down
He walked on through
Without a sound
The rain splattered down onto
The sidewalks of the town.
The sky was black.
He was alone, all alone.
The streets were deserted, empty of all presence.
The sky was black and obscured by grey clouds.
The cobblestone streets were slick and gleaming with rain
They shimmered faintly in the light of
the street lamps.
Normally town square was bustling with townsfolk
but now it was empty like the sky.
The man continued walking
And by now the streets were so full with puddles. He could hear the rain drumming down onto the rooftops of houses.
Thunder in the distance, rumbling
Lightning that lit up the sky.
The man did not
know where to go.
Why had he gone
Why did he care?
He ran a hand through his wet hair.
He was cold out here. But even in the darkness he had no fear.
"I'm out here for you, Catalina dear." He whispered.
The rained-in streets left water up to his knees. His clothes hung onto him like drenched rags.
He waded through the water
as the rain hailed down around him.
He managed to reach the park. It was calm and tranquil. The tall oaks still stood tall and proud like soldiers from the years past.
The man found a hill
He sat on it under a tree
Beyond him laid the village
In the valley.
He rested for a while. The night dragged on like an old road does for miles.
He opened his eyes a while later
And peered at the sky through the canopy of leaves above his head.
He could see the rain had stopped, and the sun had began rise over the hilltops in the horizon. Lights began to flicker on inside the houses a few paces away. The night had past.
The man smiled. He didn't feel alone at last.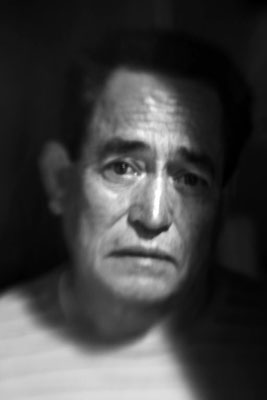 © Adam P., Goleta, CA