The Cycle of a Storm
MAG
March 16, 2018
i. Before the Storm
The river is lazy;
a serpent at high noon,
it flows like time has begun
to stand still.
The leaves dance to the beat of the wind,
heartbeat of nature,
sluggish, wild,
its breath is caught between the peaks.
They hold up the sky, the highest of mountains,
cracks down the side, splintering.
When lightning strikes,
they bleed red in the black night.

ii. A Lost Adventurer
He wakes at the sound of the gods falling from the heavens.
A fiery light blinds him – the unending forest ablaze.
Puddles form at his feet, his reflection ever changing –
Heaven is weeping for her children.
The flickering flames approach him slowly.
They are smiling as the landscape is reduced to black.
He feels their anger in waves, beating him back,
he is trapped.
They move toward him,
and he walks toward them.
He will not be tortured any longer,
he walks into the flames, consumed.

iii. Quiet and Alone
The mountains have become flat and black,
the starved fires burn no longer.
All is silent:
no current sweeps the leaves off their feet;
the whistling birds have fled the barren landscape;
time has taken its last breath.
The skies cannot cry,
a black smoke hovers over the peaks
casting its shadow, not a glimmer of light.
The river grows tired, it is alone.

iv. A Child of Death
Nothing moves in the sea of black.
Nothing moves in the sea of ashes.
Nothing moves in the sea of death …
Something moves in the sea of death.
Bright green, it pokes through its blackened fathers.
A child of the death, it curls into air.
A spot of yellow, the sun has punctured the cloud of ash.
It sprouts.
The river is not alone.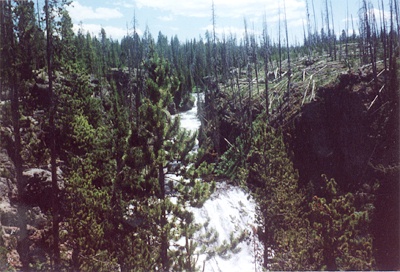 © Josh W., Peoria, AZ