Shield of Borneo
March 16, 2018
War cries echo from the battlefield.
Crash!
Shields bashing, swords swinging,
I raise my shield,
Blocking my head like a Roman testudo.
An Indonesian Kris bashes the shield,
A piece of the top layer scraping off —
The dragon's leg.
I thrust my sword,
Piercing the heart of the enemy.
The rest follow,
My comrades and I victorious.
I rest the shield on the ground
Another day, another battle, another war,
Has worn its once-exquisite designs.
The once-proud paintings of the six-sided shield
Lie as broken fragments.
Crimson circles dot the black background
Like drops of the shield's blood.
Snakes slither through the form,
Like beaten veins that have lost all their blood.
A line splits it through the middle
Like a human line of symmetry.
Where two dragons once stood at the top —
The arms of the shield —
Only pieces remain,
Shreds of scales,
Fragments of the snouts,
Segments of the tail.
In the middle,
The remnants of a human-like figure straddles the middle,
Two limbs killed, two limbs cracked.
The chest of the shield,
Its heart,
Is long gone.
Spirals at the bottom flow into an eye,
The other lost in battle,
Tears dropping for its lost brother,
The other leg of the shield.
Another day, another battle, another war,
Have worn its once-exquisite designs.
I walk away,
Leaving the shield to die.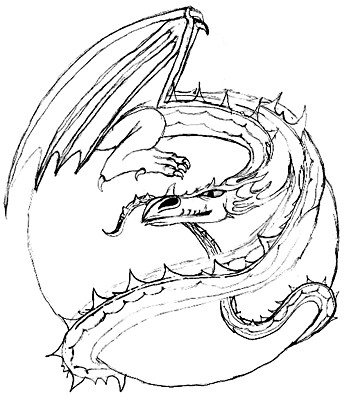 © Sheena F., Glasgow, MT