i remember the person you used to be
March 24, 2018
i remember the person you used to be.
i remember last year when we climbed to the top of the sycamore
tree in my backyard and your voice in my ear sounded like the wind
singing a lullaby to a child. the orange sun was sinking into the
watercolor sky; everything about that moment was perfect. you ran
your fingers through my caramel hair  as i stared into your
chocolate eyes. you told me that i meant that world to you, and at
that moment, fireworks exploded around me, their hues bursting in
infinite directions. your words tasted like candy and i let their
flavor- I think it was watermelon, no, strawberry- melt onto my
tongue. i swayed my head to the rhythmic beating of our hearts 
and you wrapped your arms around me. it was on that day that i
handed you my heart, daintily wrapped in magenta paper, and
trusted you to treasure it. the night smiled at us, smiled wide and
showcased all of its teeth. and now, a year later, love has become a
foggy memory because as soon as i gave you my soul, you ran
away without even looking back to make sure i hadn't fallen out of 
our tree.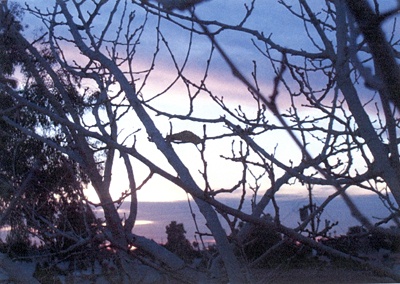 © Delia R., Phoenix, AZ