Who Are You
March 22, 2018
What would you say if I asked you this: "Who are you?". What would your answer be? And I think your answer would be "That's difficult to answer." How do you answer that. I'm a person who wants to be wanted. I guess that's mine. Because as I look back on every day and every moment of my life, I ask myself why I did something. Sadly, the answer is always: "Because people will like me a little more because of this."
I can't sleep. And I can't sleep because those thoughts linger into the night and haunt my dreams, so I dare not allow my mind to paint those horrific images and crush whatever's left of my ego. I can't let it go. I can't. For that's all I have left of my mind: Residue of a broken mind, washed away like spit from a bathroom sink.
And the thoughts in my head right now are: "How can you share this. Why are you letting your thoughts be shared with ones you know." and I agree. How can I share this with two of my closest friends. What do you think of this? What do you see in this?
Who are you?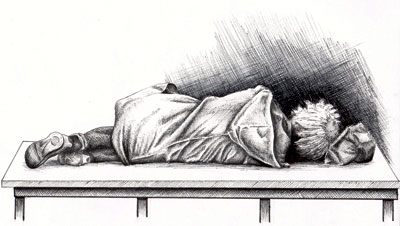 © Devin N., Sherrills Ford, NC