Bottled Up
February 15, 2018
Drip, drip, drip… I felt myself being pulled away from us. I could hear you ripping away my motivation, unscrewing my head as if to place new standards in that you wished I already had set for myself.

Drip, drip, drip… I saw it all being washed away; the bonds we formed and the moments we shared together. You raised me to go to others for help but when I went to you I received nothing but disgust and disdain.

Drip, drip, drip… I was ten when you bought me pants two sizes too small saying when I got older I "would thin out." I was eleven when I flunked my test so you would refuse me dinner because I wanted to lose fat I didn't have for when I was weighed in school.

Drip, drip, drip… I was thirteen when I told you I wanted to be a mechanic and you snapped saying that it wasn't "a job for a lady." I kept growing up following every standard and rule for
you had set for me, hiding food in my room to throw up later, hiding blades under my mattress for my worst days, hiding the feelings no woman should have because I was raised to be the
perfect wife and the perfect daughter.

Drip, drip, drip… I was eighteen when you saw my wrists and then pretended to not as you handed me another diet pill and told me about our neighbor - slightly older than me - who was
already engaged to a man almost twice her age, talking about how proud her mother must be.
I was twenty-five when you asked why I didn't call, twenty-five when you started to ask what was wrong, and twenty-five when you asked what become of the daughter you loved.

Drip, drip… I was twenty-eight when I cut you out, twenty-eight when I threw out the scale, and twenty-eight when I realized how much you had drained me. I was grown and alone when I
flipped my life back around and stopped the water bottle from draining anymore.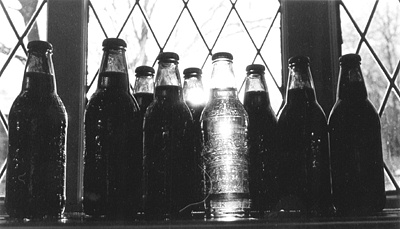 © Steve S., Marblehead, MA