Broken Patterns
March 20, 2018
She stared at the stars,
The same way that she stared at the map,
the one tucked away in the backseat of her red corolla.
A restlessness coursed through her.
Her veins throbbed with hate at her own life,
Her skin tingled with dissatisfaction
As she drove her same routes, a path to ennui.
And ultimately her soul flatlined,
as she entered the same dreary office park she called 'work'.
Three years on the hamster wheel.
She could take it no longer.
Broken down, her hour hand had stopped moving,
Refusing to rotate around this life of darkness, of unfulfillment.
She had awoken with the taps of rain on her apartment window.
Staring out at the hum-glum grey of the morning sky,
Her spirit broke.
It is when her spirit called for more.
More spontaneity,
More love,
More heartbreak,
More life.
She wanted to feel something, anything.
Her heartbeat had gone idle, for
She needed to feel an uncertainness rather than an unchanging
life of steadiness,
To know she was alive.
Six days later here she was.
Approximately 1,628 miles from where she started,
Staring out at the stars,
In a campsite off a route the man at the gas station
17 miles back, called Path 7.
Staring out and wondering,
Not just where tomorrow would take her,
But where her thoughts would lead her,
Because now she is free,
No pattern of routine to bind her.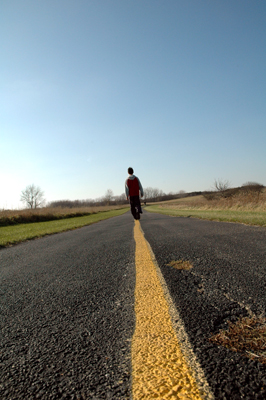 © Seita O., Palatine, IL