Autumn
February 25, 2018
The night before Halloween
My costume stowed away
I was excited,
An excitement I hadn't felt in years
This ethereal enchantment
This sense of childhood wonder.
I stepped into my darkened bedroom
Curtains drawn apart from morning
In trailed the slightest of breeze
And I breathed in purple
Orange
And a deep, deep blue.
The streetlights outside shone
A jack-o'lantern orange
Through my faded blue
Curtains.
And though I typically despise orange,
On this night of nights before a special night
It held a unique place in my heart.
It was invigorating and whimsical
And the purple aura which surrounded it
Was comforting
And understanding.
And the blue
The blue could only be described as sad
But sad is beautiful, isn't it?
The blue gave me angel wings
Lifted me up into the starless sky
So big and blue and beautiful
And set me free
Free to fall
Free to fail
And free to be.
And for the first time
I understood your love for fall
Not fall, you'd correct me with a small laugh,
Autumn.
And yes, autumn is beautiful.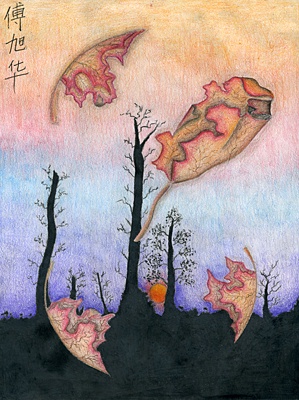 © Becky F., Sacramento, CA