Crowded Rooms
February 24, 2018

The idea of being overwhelmed,
like you've been sucked into a thick cloud.
This cloud has forty different colors filled with zig-zags, checkers, and there's yelling and there's screaming and there are people everywhere.
I get overwhelmed, Easily.
Maybe it's from years of being an only child having a relatively quiet life,
only to throw a new baby into my family.
But. That. Is a whole different story.
I'm known to close myself off.
When things get too stressful or loud I go,
Silent.
As a crowded room makes me feel like the walls are caving in on me.
I am suffocated
Trapped between people talking and yelling
So much you feel your ears might burst.
Sometimes you feel like life has its hand wrapped around your throat strangling you, holding you under water so you might,
Drown.
My head being pulled in every direction pulled into another conversation
The people talking,
The bright lights of our iphones lighting up with "lols"
It is so. Hard. To. Keep up.
We as a students are so overwhelmed,
Overwhelmed with our futures,
Overwhelmed with expectations.
Overwhelmed not only by the pressures others put on us, but the pressure we put on Ourselves.
So much so that we lose sight of actually living, we only survive.
Life still tightening that grip it has around your throat by every second,
We as a society are overwhelmed,
Overwhelmed by the sad stories on the news that seem to keep piling up day by day.
Overwhelmed with the people crowding the stores, streets and sidewalks.
I get overwhelmed easily.
The crowded halls at school make me anxious
These crowded halls where people expect us to fit in a space designed for less.
Sometimes you feel like you are being sucked into a
thick cloud.
I'd like to escape these crowded rooms and crowded halls someday,
Loosen the grip life has on my throat,
To really catch my breath.
To really start to live not only just
Survive.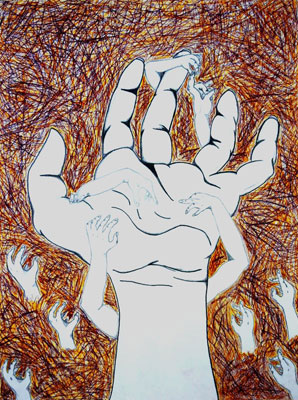 © Ariana R., New Orleans, LA