February sky
February 27, 2018
I was suddenly very hot,
It was February and I looked at the sky
from the window of a stuffed bus
with people clad in the dullest color.

The bus had found the usual highway
and so it sprinted like a carefree child
across a meadow. The speed was crazy.

My hotness eventually gone with the wind,
the cool summer wind, juggling my hair,
almost uprooting them in the process,
hitting my face like ecstasy pills in a syringe.

I had then, forcefully opened my wind-fetched eyes,
into the sky of a February dusk- moderately cloudy,
like the amount of sugar I like in my tea,
the color- a timid blue slashed by golden streaks
that I imagined, were reaching from a believer's heaven.

In the process, I chose to ignore the arrays
of skillfully erected bricks, foundations laid
at the cost of long ancestries or stolen money,
I even ignored the occasional greens,
meanwhile the bus raced on another highway;
an endlessly long one, meant to overlook
the glossy, disoriented, crowded city.
The wind had picked on again, the view spilling behind
but the sky was stagnant, but moving, slowly.
My eardrums were dancing against the screams
of a free wind, my face now numb,
my gums cold, my eyes dazed, my hairs vertical.
The hotness in my body, melted and pooled
around my seat- a witness to my bodily dance moves-
still, writhing, jumping, shivering, still, still, muted.

I couldn't take it anymore- the beautiful assault,
the February sky was not your usual February sky,
it was relentless.
So I closed the window glass,
melted into the seat, like wax,
wondering if one remembers such short
moments with the same intensity.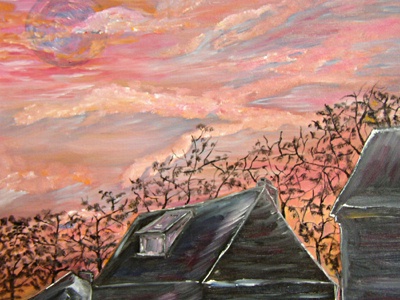 © Lauren M., Scotch Plains, NJ