Where I'm From
February 21, 2018
I am from country roads.
Overprotective parents who never let us out of their sight.
Biking around rural areas.
Trespassing in the open fields.
Biking down staircases.
Jumping off swing sets.
Climbing onto our roof.
From falling from the roof to driving a go cart into a cement wall.
I have experienced it all.
From hospital bills to physical therapy.
Thankfully I survived childhood.
I am from a large extended family.
My mom 1 of 10.
My dad 1 of 8.
Parents families knew they had to stay close if they wanted to survive their childhood.
Packing 38 cousins into grandparents house on Christmas Eve.
White elephant gift exchanges.
Easter egg hunts.
Boat adventures on Pewaukee Lake.
March Madness gambling games.
Designing a haunted house to raise money.
Parents generational characteristics will be past down to their kids and to their kids, kids.
I will always be close with my family and extended family.
I am from the outdoors and adventures.
Attending Camp Long Lake with no parents.
Fishing everyday, I thought it couldn't get any better.
The adventures just about to begin.
Voyaging to the southernmost point of the continental United States.
Sailing the waters for 2 weeks like a pirate captain weathering the storm.
Trekking Philmont, a desert in New Mexico.
Arrive with nothing but brown dust for miles.
We navigated through the backcountry.
Rappelling down cliffs, scaling mountains, wading through rivers and sterilizing water.
Avoid death as two scouts were not able too.
Dodging a rattlesnake bite.
Dehydration and desperation setting in.
So disgusted from the two weeks of dehydrated food about to yak.
Arriving back at base ready to pass out after the 120 mile journey was finally over.
Thrill of completion of the hardest trek was keeping me on my feet.
Trying to evade 100 degree heat I traveled to Canada next summer.
Portaging the Boundary Waters.
Carrying the 70 pound steel canoe on my back.
Shoulders feeling as if they were about to fall off.
Back aching from repetitive strokes.
Catching walleye, bass and northern was only motivation to keep going.
Never thought I would be able to finish.
I am from moronic mishaps, a tight family and untamed adventures.
All of these experiences cultivate to make me who I am today.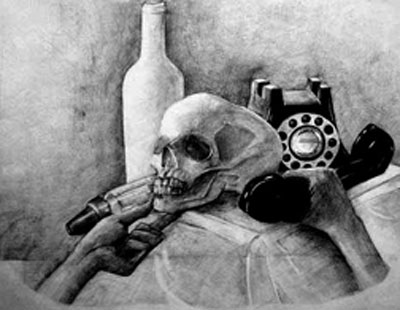 © Xiao H., Naperville, IL