Goodbye
February 20, 2018
The picture shows you and me
Sitting by an old oak tree
My hand in your soft golden brown fur
The sunlight shining down from heaven
Reflecting off the early morning grass dew
Your knowing eyes look up at my face
Comforting me, loving me
Tears rain down my face
As I say goodbye to you one final time
As I say goodbye I think about all
The fun times we had together
I remember getting you as a puppy
On the car ride home you feel asleep in my lap
Your little paws twitching as you dreamt.
You ran around your new home playing in the grass,
Chasing your tail, running between my legs
Exploring every little nook and cranny of the house.
You wandered around the neighborhood everyday
Making friends with everyone
Greeting new faces
Playing with the other dogs.
I would take you down to the lake
And walk with you around town
Your tail wagging in the air,
Tongue hanging out of your mouth
Happy as could be.
Now we have a new dog, Charlie
Every bit as fun and playful as you were
But I still remember your gentle loving face.
Now I keep this picture of you
On my nightstand next to my bed,
And I see it, and think about you
Every night before I go to bed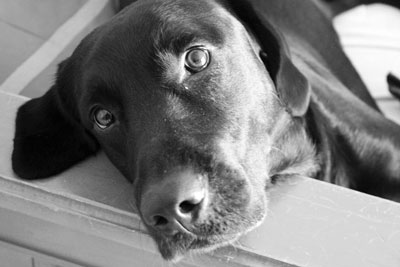 © Lindsay L., Snohomish, WA