Where I'm From
February 26, 2018
I'm from a place
from the darkness below, upwards into the light above
and yet I still feel as if that destination grows further away.
I'm from the fortified outcast who refuses to let in
from this institution; the immediate family that raised me
and in between; it's a miracle nonetheless.
I'm from the perpetual meteor shower intervening on promising special relationships
from my stepfather, of which we share common interests in creating mechanics from scratch
to friends and acquaintances through special education classes
and I'm still kicking myself for the hardships we faced
either through quarrels that never resolve or death.
I'm from unrealistic judgements with a side of unpleasant voices
from shutting out my thoughts so the world could not hear them
and yet, they are conveyed in typed up words.
I was a nobody
from being a nuisance; making no contributions for the better part of a decade
and now I'm here writing this poem
climbing up this mountain, trembling beneath my feet
as if the ground itself was flaky and feeble, barely supporting the weight it holds.
All serving as a testament for the effort I've put myself to this point
so there must be some meaning.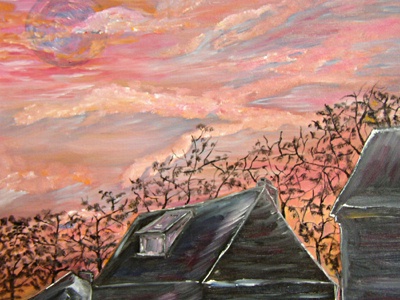 © Lauren M., Scotch Plains, NJ