My Roots
MAG
February 26, 2018
I split corn fields for miles as the sun sets
in my rearview mirror.
Rolling hills lie rustic and rocky roads,
baby blue walls and crammed corners
make dreams.
Tick. Tick. Tick, the ceiling fan spirals
over our sticky bodies during
the summer nights.
The crank of the air purifier and blaring
crickets chirping …
These are my roots.
Waking up in the pitch black, sunrise
to sunset,
life was a little girl selling lemonade
on the edge of her driveway.
Walking Haillie down Garnet Court
on my scooter
till the battery bit the dust.
Tossing the hose on the trampoline
as my siblings and I cook from the glaring rays of summer sun …
These are my roots.
Racing off the bus to wander in the woods with neighbors.
Climbing trees as if we were one
with the animals.
"Thomas! Josh! Dinner is ready!"
Josh and I raced to see who could get
to the house quickest …
These are my roots.
My shorts phase in the third grade gave me the nickname Leggs.
"Nice job T" was a signature line
from my dad
as he coached my little league.
Summer afternoons of baseball at Merton
are stuck in my hippocampus.
Who knew that first competitive
rec soccer league
carved the future for my athletics …
These are my roots.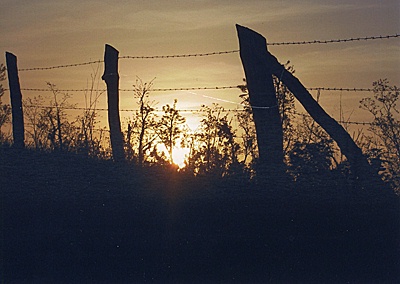 © Michael T., Letart, WV