Where I'm From
February 21, 2018
I am from Jeep rides to Pewaukee Beach,
   the wind forcing me to hold on tight.
A yellow bike going down the driveway,
   my dad catching me.
I am from a wooden swing set,
   a canopy with the colors of red, yellow, and blue.
A swing putting me as high as I can,
   toes going through the clouds.
My friends and I gathering together,
   playing basketball games at recess.
I am from fish being reeled in,
   sitting on the pier of Pine Lake.
The sun changing the sky's appearance,
   orange bursting from the ground turning into a red and purple.
Driving for four hours to get up north,
  the noises of loons, listening to them crow and sing songs at night.
Waking up in the cabin,
   going down to the lake looking like glass.
I am from running on green grass,
   playing lacrosse with my friends.
A small camper in the woods,
   forcing me to squeeze through places.
I am from mall visits with my family,
   rolling my eyes when we shopped for others than me.
A student vs. staff game in eighth grade,
   hearing the kids cheer for the student team.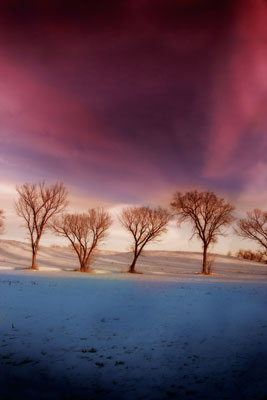 © Elizabeth H., San Bernardino, CA