The Need to Be
February 8, 2018
Darling,
You fell hard
In his well of empty words.
You plunged.
You dived.
All knowingly that you could drown
Instead of float
But you,
You were hungry
And he had sugar
You thought even if he had only
Salt, you'd lunge yourself in anyway
Because salt was better than
Having nothing at all
Better than starving
Your stomach is empty
And you needed to feed
The butterflies that were asleep
You needed them to be alive all over again
You sank deeper
And deeper
Engulfed in that water you thought
Was sweet
Your body heavy against the
Soft intoxicant
But then you realize you could not breathe in
His honeyed water
It was baffling how
You used to want it to flood
So you could submerge in the water
You thought created life.
But you suddenly suffocated
Because it was all too much
Too much to drink
Too much water in the lungs,
That only ever wanted air.
The things you crave now are not
Those sugar-laced lies,
Fake assurances and promises
But a new, fresh atmosphere
And trust me when I say this
Honey,
His water never washed you clean
You were never the statue he admired
He marinated you like meat
Only so he could take a bite
When you know his water never washed you clean
And that it only smothered you--
When you finally realize
Your need to get out of it--
You can resurrect out of that water
Out of that damn well
Using no rope but pure strength
Of your own by climbing out of the wall
To be able to live.
Breathe.
Be.
To regain that life:
That vigor.
That vitality.
That vivacity.
That life you used to live in
No longer would you be the bucket
whose only purpose is to
Fetch his water.
Your will can get you out
Because you deserve
To be doused
With wine
Instead of waste.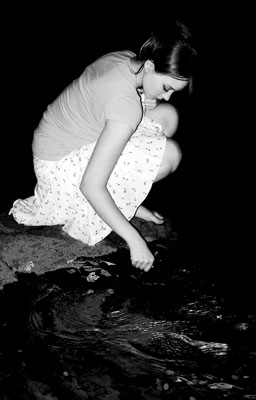 © Michelle B., Blairsville, GA