the shortbread at the funeral
MAG
February 15, 2018
Not a day goes by I don't
miss you.
Not a moment passes where I don't long
for a biscuit.

Not just any old biscuit.
Not just any crumbly, dry, moderately
sweet thing.
The location is important.
I want to open the doors
to the well-lit pantry.
Open the jar without living in fear,
pain, or guilt.

I want to walk past the window
and see the chair.
The chair that brought me so much joy.
The cushy black chair
with the rounded edges,
so you could sit in the sun and sleep.
For the short time before the chair left,
I sat in it.
I'd never done it before.
It was always for you.
The tears never came out of it properly.
The chair, that is.
Although there were plenty of other
tear-stained things.

They tried to reassure me,
they said,
"No, it's fine,
it's what she would have
wanted."
I sat in it.
And as I said my words,
prepared next to your body,
fresh from a kiss on your
forehead,
one from me, one from death,
licking the salt from my
cheeks,
the wax from yours,
I hope someone could turn
on the light.

I felt an odd feeling –
jealousy–
so common in my mind
but so wrong in this place.
And as I leave,
I fold my paper,
perching it high on a shelf,
to topple every time I close the door.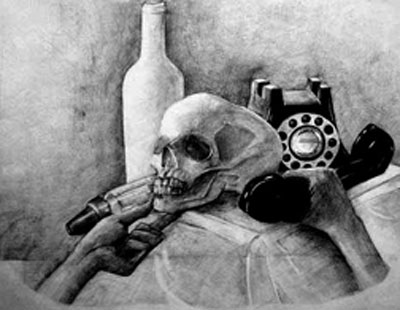 © Xiao H., Naperville, IL