What teachers need to hear
February 12, 2018
What Teachers need to hear
You don't understand our struggles.
You can try and try but you won't
One day you might understand
But you DON'T 
There are so many things
That you just put on our minds.
You can try and help but it doesn't always work.
You won't always be able to be there.
You expect us to do our best
And sometimes our best
Just isn't good enough for you
You grade us on how much we can remember
And you don't understand
EVERYONE learns differently.
You just need to let us learn how we learn.
You can talk and talk all day
But half the time we have no idea what you are talking about.
You expect me to be amazing and perfect
Just like my parents expect me to be.
Sometimes I just need a break.
Teachers don't understand
We just need time to not think,
We need time to just back up and take a moment.
You put so much on us 6 classes a day, 5 days a week
And we are learning something new in every class, every single day.
You just don't understand.
But it's okay because someday you might.
You might give us a break, You might just stop and look
You might just see us struggling
And when that day comes please let us know.
We need to be told
When we are allowed breaks.
We need to be told
When you expect us to not be perfect
And we can just be ourselves
And that making mistakes is okay.
That is what teachers need to hear...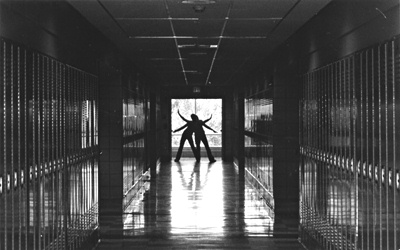 © Sheera G., Marblehead, MA