The Dreary Marathon
February 14, 2018
Wake up. Sleep. Wake up. Sleep,
This is my life in the hands of the world,
A disconnected assonance, not a symphony of the Gods,
As no gay and radiant music resounds from the dusty and gloomy path
In which I roam,
No left or right, no bifurcations, or choices to be made,
Just keep walking, and walking, and walking.
All the same, I walk and watch the same trees, the same bushes,
And the same livid path,
As if I were walking in circles,
All the same, and still no company,
I just cannot argue,
For that is what the universe has set for me,
Just keep walking and walking until the end of time,
Tic tac, tic tac, the clock resounds,
Tic tac, the clock says nothing,
Not even a piece of advice,
Which is certainly what I need the most,
Just tics and tacs.
Again, wake up. Sleep. Wake up. Sleep.
I hear a sound far along the trees,
Across the woodland and the darkness of my course,
There lies a railroad,
Where a strangely familiar girl sings a cheerful melody,
Oh, for how long have I not sang
To the lovely verses of such beautiful songs,
For how long, I ask myself, have I stopped to think of my choices along the way,
For how long I have been this dull.
Wake up. Sleep. Wake up. Sleep.
I see the familiar girl on the other side of the woods,
I am sure I have seen her before,
In earlier periods of my life,
However, her melody is still a mystery to me,
I hear it perfectly, but cannot make sense of its words,
I hope we meet soon enough and she gives me some advice,
Whilst that time doesn't come,
I will just keep walking, non-stop.
Wake up. Sleep. Wake up. Sleep.
The day has come,
For what it seems,
Our paths shall finally meet,
Yes, we are almost side by side,
Face to face,
And now I understand why she is so familiar,
She is me.
The girl comes close enough for me to notice that,
Surprisingly, her face is as depressed as an abandoned child,
From far, she seemed uplifting,
And for once and for all,
She whispers in my ear,
Your time is up, say goodbye.
She vanishes, and I realize that I have stopped,
I am no more walking in circles,
Now I understand her purpose,
My time is up,
For the first and last time,
I lie down and take my time to appreciate the mixed colors in the sky,
Red, blue, and orange,
The chirping of birds,
And nature's breeze,
Her melody is no more a mystery to me,
Just as I have reached the finish line of such a dreary marathon,
Finally, I feel at ease and close my eyes,
Darkness.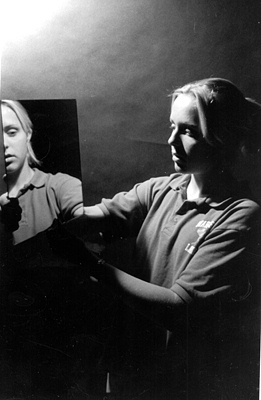 © Hadley B., Marblehead, MA