I Thought I Knew You.
February 7, 2018
I met you in the deafening light in front of the stage.
I met you in the blinding scream of the guitar.
A fierce little raven bird, spitting on her cage.
It did not take me long to fall in love with who you are.
I soon learned after our grand encounter
That you snuck out that night
Through a window that hung over the kitchen counter.
You said, ¨That´ll show my parents that I'll do as I like¨.
After the show, we met twice again
These feelings for you resonate in my core
You tell people I am just a  friend
But, I know we are so much more.
We often fuss and argue, in this we are both to blame.
You still can't take my love serious.
You think it's just a game.
Well let me tell you this,
I can never control you, my little raven bird.
I can only admire all the strength you carry.
Oh, my beautiful girl, have you not heard?
I can only admire all the strength you carry.
I can never keep you down,
Nor would I ever harbour the thought.
Everyone from miles around,
Knows that your fiery, passion cannot be stopped.
I know your weakest points, and all your strong ones, too.
You think I try to tear you down day in and day out.
I didn't think you would fall apart when I said, ¨I Love You¨.
But, let me tell you honey, I hate it when we shout.
You are all I ever want to know
I say I know you because I do
Don´t you want to be with me?
I just don't know where to go
Your cold shoulder is making me blue
If you do not love me, it is best for me to leave.
I really did believe that,
I knew you.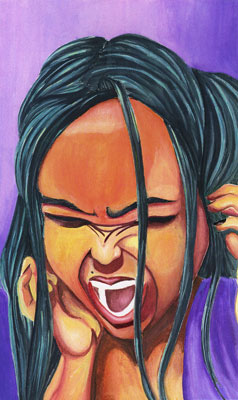 © Kriztille J., Briarwood, NY