Season Dissatisfaction
January 29, 2018
Summer:
Hot, dry, parched
Sweating all day long
The CRASH of elegant waves along the beach
Watching baseball in the grueling heat
Wishing for something cool
The sun beating down on you,
Punishing you for procrastinating homework
When will it be autumn?
Autumn:
Cold, dismal, raw
Shivering in school
The CRUNCH of vividly-colored leaves beneath you
Fevers and chills roam
Wishing for something exciting
Rain patters outside the window relentlessly
Punching the ground for some unspeakable crime
When will it be winter?
Winter:
Freezing, gray, numb
Laying around sick
The WHOOSH of bitter winds pierce the air
Enclosed and barricaded in a stuffy habitation
Wishing for Christmas to come already!
The brown grass pokes through the tiny gaps of snow
Standing to an old age defiantly just to be exasperating
When will it be spring?
Spring:
Damp, gloomy, stressful
Dying through track practice
The CHIRP of birds flitting around
Sitting through long tests, all gusto and aplomb gone
Wishing school would be over
The sun hides behind dark gray clouds never to emerge,
Dispelled before it can ever be enjoyed
When will it be summer?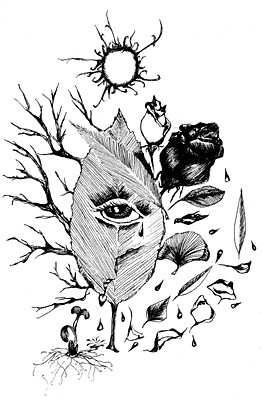 © Cara L., Cheney, WA