Hourglass
February 1, 2018
There is where I am.
I am here
And there at once.
Standing in a desert
Drowning in an ocean.
Sand captivates my every move
The water washes over me like a dim dream, yet seems too good to be true
I scoop the golden specs and try to make them stay.
The water is killing me, but I can't leave-
I don't want to leave.
They stay, trapped purely by my will to keep them.
The pressure is unbearable, as if trying to force my soul from its hiding
They become restless, threatening to leave,
But never truly leave.
Why does it want this?
Why must they go?
It never lightens because it doesn't know what it is doing.
Somehow they slip through an inapparent hole in my hand.
The water keeps pushing,
Urging me to give up.
I can hear it whisper Just quit
The pile slowly fades,
And soon I am alone.
Completely, entirely alone.
I have finally done it.
I have pushed everyone, everything away.
I have to stop.
I can't continue.
My soul is forced out,
Pushed through the depths of my chest,
Flies out of my body and,
It leaves.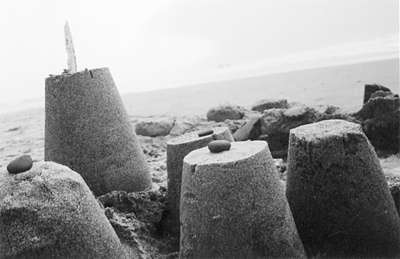 © Lydia D., Seattle, WA