The Love of the Moon
January 24, 2018
Some say he was a king,
Some say he was a hunter.
He was also envisioned as a shepherd.
His work would be done at the setting of the sun,
When the night sky would begin to shine like a sapphire.
When the stars would glitter and festoon the dark backdrop
And the sheep would nestle in their pen.
When the owls would return to life, and begin their nightsong,
The young Endymion will whistle and begin his journey home.
He, not knowing of she who loved and watched him.
She who never wanted Endymion to love another,
She who wanted to be his for all time.
One night, she could no longer bare being without him,
So she lulled him to an internal sleep.
Now here he rests, evermore
On the glades of Latmus.
Endymion, the boy who they called the most fair
Fixed in the cyan moss.
The nightingales ornamente his feet,
The moths adorn his hair,
Further beautified by the untaught.
He lay on the mountainside, as if dead
And admired by only one.
Night after night,
She would visit her beloved and
Grace him with kisses.
But he was never to see the lustrous, waxen form
That hovered above him only after sunset.
And never would she ever, hear him call her name
But that was the choice she made,
Brushed with happiness but painted with sighs.
And so lay he,
Dwelling in an eternal living death.
For this is the fate of Endymion the shepherd,
One loved by the moon and decorated with a wreath.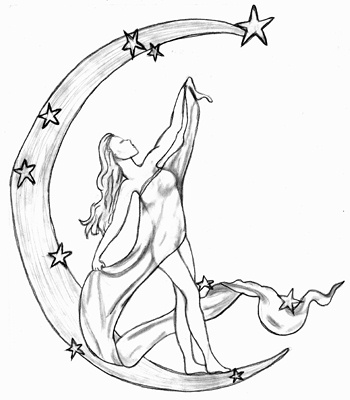 © Bianca C., Phoenix, AZ