Burger Delight
January 22, 2018
Enough juicyness to turn you mouth
into a waterfall. The crunchy bacon sizzles
and the steam rises up from point A to point
B. Melty cheese runs down the side of the
tender cooked beef. Built into the shape of
perfection from its crispy bacon, runny barbeque
sauce, and gooey cheese.
Staring eye to bun for a good minute
wondering if I should devour it all or
continue to gaze at its glory? The barbeque
sauce is now making its way down the rim
and ever so slowly it stains the plate. The flaky
onion rings insult me when I can no longer
take it. I grab the burger and try to tame
it from resisting.
It howls, screams, and fights its way out
of my grip. The beast goes flying in the
moist warm air. As soon as it reaches
my plate again I get a cold hard grip
on it like never before and shovel it
into my mouth. I feel all of the
ingrediants coarsing down my throat.
Satisfaction is finally mine.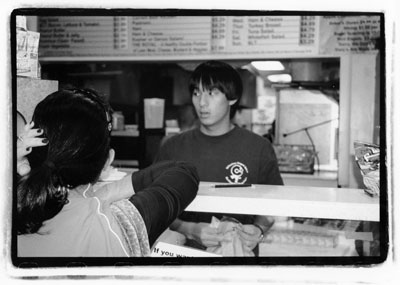 © Rachel D., Bethesda, MD