The four seasons of me
January 19, 2018
I'm from a place with humid summer nights
accompanied by dinners from the grill on the back porch.
Where lazy days are spent lounging at the beach
or in line at the local ice cream shop.
Where a t-shirt and shorts are at the height of fashion
and a trip to grandma's house will make your day.
I'm from hours spent on the swingset in the backyard
and the annual viewing of fireworks set off across town.

I'm from a place with brisk fall days
that go perfectly with a cup of hot apple cider.
I'm from sisterly pumpkin carving competitions,
trips through the corn maze with friends and
late Halloween nights spent trick-or-treating.
I'm from sunny afternoons spent apple picking
and Thanksgiving dinners with all the relatives.
I'm from youth soccer games every Saturday morning and
afternoons spent raking the leaves that litter the yard.

I'm from a place with cold, icy winters,
in which days are spent sledding down the hills masked in snow.
I'm from the lights that illuminate the evergreen trees and
the Christmas songs that fill the house.
I'm from the snow days that everyone anxiously hopes for and
from the hot chocolate and candy canes that have become a dietary staple.
I'm from the numerous pairs of gloves that occupy the dresser drawer
and the fresh balsam aroma that's impossible to escape.

I'm from a place where spring is a time of renewal,
where the snow melts and all kinds of life start anew.
I'm from the Easter egg hunts followed by brunch and
the pleasant scent of freshly cut grass.
From waking up to the sound of birds outside the window
and the bouquet of tulips that occupies the center of the kitchen table,
whose delicate scent is whisked away by a warm, yet refreshing breeze.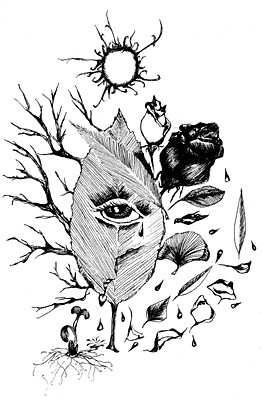 © Cara L., Cheney, WA