Perception
January 16, 2018
I am dancing with raindrops,
the ones that fall with pleasure.
Falling
but not because the clouds built up tears
and forced them out with strange unease.
No.
White marshmallow clouds smile,
joy masking the ground as others just sit
and watch.

I am dancing with raindrops
of a summer storm.
It makes the earth smell brand new,
like it was just ripped out of it's package.
I inhale change.
Others inhale moist dirt
and earthworms
and disgust.

I am dancing with raindrops
and the sun is still up above.
No clouds,
but the rain begged
and begged
to be set free.
It drips
and drops,
attaching itself to the ground
like a magnet.
I feel the magnetic field extend my fingertips
and I am pointing in the right direction,
others twist their feet into the ground,
immovable figures stuck in place.

I am dancing with raindrops,
arms open wide.
I embrace the waves from my eyes,
loving the passion
that dancing creates.
Others sweep the flood
back under their eyelids,
pressing them closed,
gluing them shut.

Others point with distorted fingers.
Others grind their teeth at my face.
Others forgot how to dance long ago.
But I am dancing with raindrops
falling down my face.
there is pleasure
in their salty taste.
The raindrops fill me up,
A glass overflowing.
I am full from dancing.
To dance is to embrace.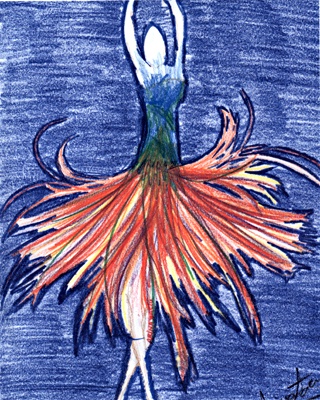 © Arina Z., Euclid, OH