Where I am From
January 17, 2018
I am from Orlando and Carolina
the country with a flag of yellow, blue, red in that order.
I am from the sweet aroma of Colombian "arepas", and
the fights for who gets one. From the fluid
language from "hola to "hello", "Como Estas" to "how are you".
I am from the sheet music to the jam sessions,
the sore lips from the trumpet and saxophone, as well
as the sore fingers of the bass guitar.
I am from Harry Potter to Percy Jackson to John Green,
The fragrant smell of a library, the unbound books waiting to be read.
I am from the kicks and punches against the bag,
The echo of wood breaking.
From the t.v. blaring the grunts of Federer and Nadal,
the groans and sighs of my parents of them watching tennis.
I am from the church hymns to the prayers before bed,
to the verses I committed to memory. I am also from the ping pong
lessons about control to the victory taunts whenever I won.
From "Put that down and do your homework!" and "Time to go"
I am from my sister who shouts "buddy" when she sees me and always wants to play,
to my father whose advice guides me, and is always there to lend a hand.
From my mother who is a pillar of strength, encouraging me to try harder in all I do.
I am from love, ever-present and helping me.
Wisdom guiding me all I do.
The unbreakable bond of my family
showing me the right way to go.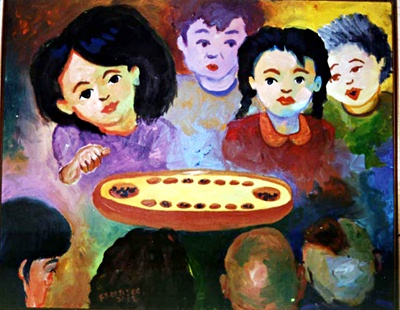 © Fransisca A., Surabaya, Indonesia