the imprint of a dead boy
January 16, 2018
and now i'm thinking too much. again.
of your heart clenched between my fingers.
i'm thinking of rusty red blood scraped off
in the school's bathroom sink
from the hands of those who can't hide from the guilt.
i'm thinking of calls for help in broken megaphones
which only attracted squeaks from the rats
because hope has an expiration date.
i'm thinking about pulling the trigger every day
at our feet, at our hands, at the tufts of hair just near our skulls
and being screamed at for coming home
with bleeding heads.
i'm thinking of how we'd climb onto the roofs of buildings
with only the chilling air between our feet and the ground
and how we wouldn't jump
but just stare at the flashing lights
and wonder what it would be like to fall.
i'm thinking of the stained ground
and how much time it must have took for somebody to clean it.
i'm thinking about the odds that anybody mentioned it again.
i'm thinking of your name
becoming just a mere whisper in the hallways
the fresh pot of gossip until a better topic comes along
and then i feel guilty for thinking
since you're not thinking at all.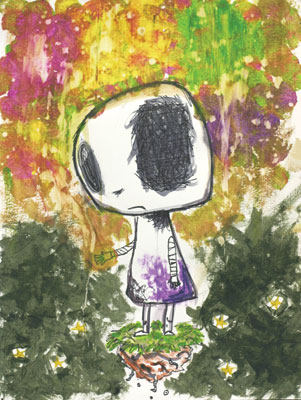 © Ashley W., Port Charlotte, FL