is it possible for colors to drain?
January 14, 2018
is it possible for colors to drain?
because when we used to get lost together
sitting on my roof
the overpowering hues of the sunset
seemed to take us with it.
fuchsia would dissolve into lavender
which would seep into a warming orange
all the colors creating a masterpiece
that belonged in a museum.
its muscular arms swung me up
and embraced me.
comforted me.
our souls would drift off with the paint streaks
swirling inward and becoming one with the sky.
and then it all seemed to burst
different shades exploding this way and that
like spotlights drifting across a stage
our hearts shattering our glass chests
just to soar onto the canvas
and ensure that we would remember this moment
forever.
but now everything has changed.
only your shielded shadow remains
next to me
a hollow space with no purpose
taunting my solitude.
everyone makes mistakes
but for mine
i've had to suffer by watching the world slowly come to an end.
it crumples up like a confiscated note.
my empty, gray eyes
stare at what lies before me
and become weaker with every passing second.
the entire scene is lightly sketched with a dull-tipped pencil
filled in with feeble strokes of nothing.
pinks and purples barely show
and clash with dead reds and fading yellows.
it all diminishes before my eyes
and so
i send the remains of my spirit with it.
it spirals toward the vortex
but plummets
along with the colors that couldn't have ever been bright.
time seems to forget its function
and all i can do is stare
as whatever is left of life comes crashing
and worse than a cacophony
all that follows is silence
which i never imagined could have been so loud.
the colors are gone
and i question their existence in the first place.
i have my answer.
yes, my old friend, it is possible for colors to drain.
and if i could have drained too
trust me
i wouldn't hesitate
even if it meant i could have you back.
you don't drink poison unless you want to die.
and i'd prefer to spend eternity
draining with what i used to call
colors.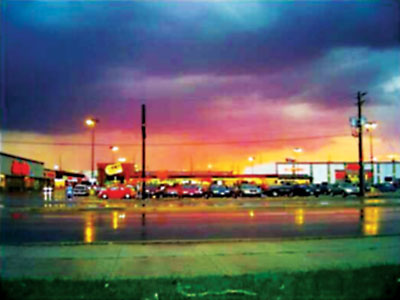 © Jasmine N., Lyons, IL