I am grateful
January 17, 2018
White headstones scatter across the fresh green grass. People spread throughout Arlington National Cemetery to remember those who dedicated their lives to America's freedom. I stand with my mom in silence to honor the brave men and women who rest in peace here. Those who dedicated their lives to America lie here, because of the love they had for those who live in this country. We are able to live the life we do because of soldiers who sacrificed, and I am grateful for that.
I am grateful for the summers I spend with my friends and family. I'm grateful for the time I enjoy travelling and making memories. Summer spent with neighbors and family, watching fireworks beam across the night sky and celebrating our freedom puts a smile across my face. We are able to enjoy summer because of the soldiers who sacrificed for us.
I am grateful for holidays spent with my family, sharing love for each other. As I walk down the street on a hot and sweaty day, I witness the flag waving throughout the street.  People filled with love for America as they celebrate the patriotism that brought us all together. We are able to celebrate holidays because of the soldiers who sacrificed for us.
I am grateful to be able to speak to my grandfather after he served in the Vietnam war. He  explained what he went through. He said, it "made it all worth it when I was able to come back to America." This is what patriotism means: an immense love for our country. I am able to spend time with my grandfather because of soldiers like him who sacrificed for us.
As I stand there, looking at these white headstones, envisioning the men and women who died for our freedom, I have overwhelming pride in my heart. I feel proud to live in America and have the opportunity to live my life. I stand in the Arlington National Cemetery in silence, to honor the soldiers that have sacrificed for us. That's what patriotism means to me.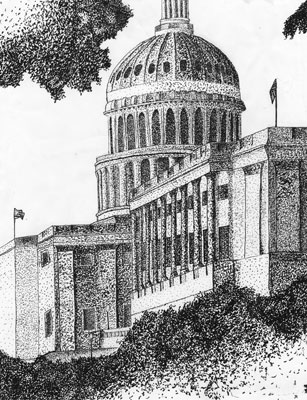 © Amy Joy S., Joelton, TN