Iced Stutter
January 8, 2018
It was a struggle to speak,
since she has always been shy.
Her father told her "learn to break the ice"
She just wanted to die.
The day was cold.
The weather was night.
She left her bed,
And went to the ice.
Tears streamed down.
Her face in the reflection.
She thought if she broke through,
It would numb her rejection.
Words were so hard,
And sentences so long.
For everyone else, it was easy;
But for her, something was wrong.
The glassy surface was thin as a sheet,
It could break any second,
Out from under her feet.
She raised the brick high
Because life didn't matter.
As it fell slowly
The ice began to shatter.
Feeling the water,
It was colder than ice.
It took her breath away,
Water glazed over her eyes.

Reaching for the surface,
Trying to grab ahold,
Suddenly afraid of death,
Not prepared for the threshold.
The liquid was once blue,
Now turning black.
Life was slipping by,
Falling through the crack.
She could faintly hear her father's voice.
"Learn to break the ice" in a deep mutter.
But didn't he know...
It's hard to speak when living with a stutter?
Her hand reaching up,
All hope was lost.
But the hand was held,
And it wasn't just the frost.
Catapulted out
Like a propeller on a boat.
Her eyes reached the surface
And the water shot from her throat.
It wasn't time for her to go,
She finally broke her ironclad.
Out of all the people to save her,
It happen to be her dad.
"Life has hardships" he told her.
That everyone goes through,
Doesn't mean you stop living
Because there are people who still love you.
A stutter is an obstacle,
That I will help get you around.
I will always have a hand to grab,
when you think you have drowned.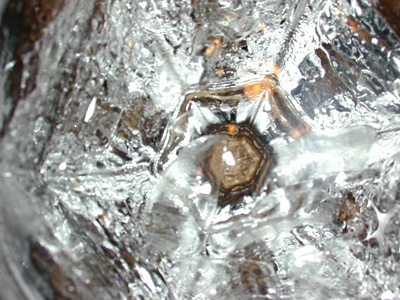 © Maria R., Allston, MA