The Men on The Train
January 7, 2018
At the crowded platform
The man with the top hat stood wait
His cane in his hand
He was almost late
Finally the train
halted to a stop
The conductor stepped out first
Out of the boxcar the people walked
The conductor stepped forward
"Sir, can I see your ticket?"
The hatted man smiled
"Sorry. This is the wrong train-I must have missed it."
Falling behind the crowd
The man let the train fill
Soon the train doors closed
And soon began the thrill
The man threw off his hat
And pulled up his hood
The train began moving forward
Rattling the coachcars made of wood
Leaping forward
The man pulled himself onto the caboose
Though the shaking of the train car
Almost fell his hand loose
The officers shouted and yelled
At the hooded man's flight
But by the time they arrived at the tracks
The train was out of sight!
The man pulled himself up
Onto the train's top
If he wasn't careful
He might soon get caught!
Now this man was not
The only one
To be on the train's top
There were three other men
Whom he had to stop
The hooded man
Had nothing to lose but his good looks
And the other three men
Were a band crooks!
He charged forward
Into the crooks' view
He pushed one man off the train
Sending all of the stolen items askew
The crooks were poor fighters
Like villains in a fable
Our hero would have an advantage
If only the top of the train was stable
However it did not take long
For the man to beat the thieves down
From the top of the train
He had retrieved the stolen crowns
As the train slowed
The man clung to the outside ladder
And the wheels of the old machine
Creaked and clattered
When the train car halted
And came to a stop
The man let go of the ladder:
And simply jumped off
As he was leaving the station
He was stopped by the conductor
But what the hooded man replied
To all but himself was a wonder
You see
The conductor thought
The man was one of the train's riders
Inside the train
Enjoying the tea and hot engine fire
The conductor asked,
"How was the ride? Did you enjoy the food?"
The hooded man smiled,
"The party was not inside the train, but on the roof."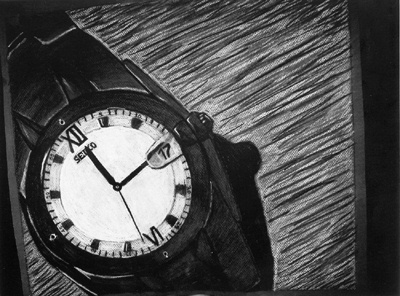 © Rachel U., Danbury, CT