the night she came back
January 9, 2018
When she came back, her heart bled.   
It had been dawn, mid-December.  Icy wind bit at her nose.  Snowflakes swirled around the desolate parking lot.  Shopping carts sprawled across the pavement.  In the heavens, a Target sign flickered.  Plastic coffee cups scattered about the snow.  She stood beneath an unlit lamppost.
The world was quiet. 
Alone, she stood, boots in a snowbank.  Her hands were empty, but they trembled.  Her heart was full, but still. 
She stepped forward. 
The lamppost where it happened stood tall.  It was littered with wreaths of petals.  Decorated with crosses and stuffed polar bears.  Painted with dripping, sharpie-scrawled prayers. 
Her heart, she found, wasn't still anymore.
She reached into her chest.  Needing both hands, she pulled it out.  Beating, pulsing, near full to the bursting.  Her eyes closed.  She placed her heart onto the pavement.  
It convulsed, turned, shifted.   Cold tore at the veins.  Crimson blood leaked from each new cut.  The heart fluttered, slowly becoming motionless.  For a moment, it laid still.  Then, the ground underneath the lamppost groaned.  Her heart was swallowed by pavement cracks.    
Blood stained the snowbank.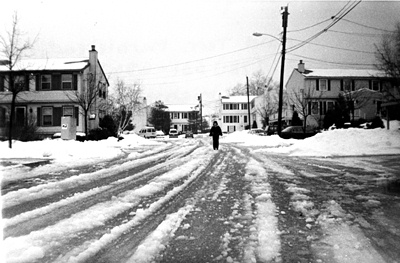 © Krystie K., Marblehead, MA