Explaining Depression
December 22, 2017
I'm stuck in this room
The door is locked and there's no windows
The only thing in the room is a chair
And I want to sit on it but it's missing a leg.
I can't sit on it because it'll fall
So I don't
And sit on the floor instead
Which is hard and hurts my butt,
But it's cold.
I can feel the cold of the concrete though my pants
And it's slowly making its way to my bones
Leaving goosebumps across my skin where it has traveled
Like footprints across a desert.
But my skin is too pale to be desert sand 
Because I haven't seen the sun in so long
That all of my color has drained from my body
Like water from a bathtub.
There's a small lightbulb hanging from the ceiling
It never dies
But it does flicker.
Like someone is trying to tell me this is all real
And all I really need to do is walk out the door to see the sun.
But I'm  stuck in this room with no key.
So I wait for someone to unlock the door
And lead me out and into the sunlight.
But the door remains locked.
And I'm left alone
I'm scared
Please help me
I need the sun
I need you.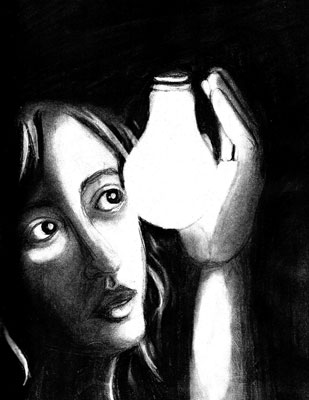 © Jessica P., Bethel Park, PA