Ode to my Broken Glasses
December 22, 2017
As you lay there folded up on your
soft golden brown pillow,  slanted but were once straight.
To be lifted up by God's holy
hands into the air, touching the clouds
Soaring like its your last
flight in your aircraft-
to be landed safely upon a sparkled runway.
Two light brown eyes with lavishly long lashes
that blink to keep from drying.
Lay the lens in front of these light brown eyes.
A throne like nose that attaches
the lens together where they can sit comfortably
on top of this trône d'or.
The tiny ears that the arms stretch out
to, while their hands hang off the bed
so they won't fall off.
Only you can push me past my blurry
opponents when competing in running events.
Only you can make me feel powerful.
Only you,  made of steel
would be able to fight your way through the
long dangerous journey through BedStuy.
As if you were Wonder Woman's whip
defeating her mortal enemy.
A swift dart that can fit through the
tightest spaces of any box or bag but
still unable to live through these endeavors-
not being able to push through this
police brutality- 45
the now.
Seeing The Black Lives Matter Movement through these
broken specs. (white hands place black hands behind
their back, pinned to the ground)
towards
Trayvon Martin, Michael Brown,
Akai Gurley, Bryce Masters
But does that mean Black lives do not
matter?
There is always a difference when seeing through broken glasses.
Runway so bright but landing safely only to
see millions of eyes- broken, mislead, lost.
Cheering as if Prince was giving his final
tour, or Barack and Michelle, still living
in office after eight years.
Looking for the one piece, that one artifact
like Indiana Jones.
You've lived the best six months of your life
As if you were here during the boycotts.
But now,
now you are just a pair of slanted frames with broken rose colored lenses.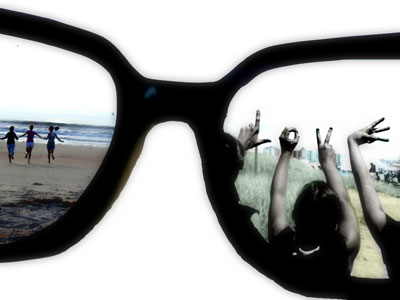 © Christina G., Bedford, NH