Convenient Trauma
December 22, 2017
Picture this: 
A dark-haired girl staring out a window on a rainy day. 
The water droplets on the glass seem to poetically mimic her perfectly formed bulbs of tears gliding down her face. 
Tragically beautiful.
An enigma of pain. 
Now picture this:
The girl recovered from her trauma,
riding her bike through the sun, a genuine smile on her face. 
She preaches about resilience and persistence to all who will listen.
A tidy and satisfying recovery. 
These images are perfect for a Hallmark movie. 
The kind filling the gaps from the romcom programming on repeat during the holiday season.
This is a fantasy, not a documentary. 
They like to package this story up like a lovely present. 
Sure, let's call it a present. 
For some, it might be pretty and tidy and fit the stereotype.
For others, it might be haphazardly wrapped in yesterday's newspaper.
With rips and tears and soggy comics.
Others might have to fight to open their gift from the years of ducktape wrapped tightly around it.
Some will open their box and the contents will be squashed and battered from years of shaking. 
And guess what? 
At this Christmas party,
all of them are valid.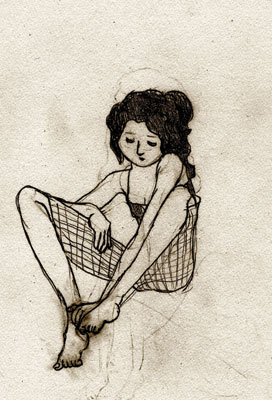 © Samantha W., Albany, NY