The Hollow Princess
December 20, 2017
Beauty is a fickle thing
    Held in the eye of beholders
But you've decided to sell your soul
    And set that weight on your shoulders
And still you go back to the devil
    To trade away your voice
The prince still hadn't noticed you
    Did you have to make that choice?
The prince is now in your thrall
    But you are still in the devil's.
A soulless princess already
    And now you're mute for your troubles.
Wrath was never a problem before
    But now it plagues you daily
Without a soul you're full of hate
    And no longer smile gayly.
But what is worse, soul or voice?
    At least you still have a heart
At least you love your husband
    But you've torn yourself apart.
Your name is Ariane
    But no one will ever know
The name of the Hollow Princess
    With skin as white as snow
She lacks a voice, she lacks a soul
    She only has a heart
A broken one she's mended,
    Already it's falling apart

And yet she goes to the devil again
    The man whose hands are burned
But what will she trade away this time?
    Will she have her soul returned?
Her heart she now has traded
    And it leaves a gaping hole
She traded it back for the life that she had
    And she's lost the husband she stole.
The devil returned her soul and voice
    But her heart he has consumed.
The prince no longer enchanted
    And his normal life resumed.
Poor Ariane with gaping hole
    In her chest for all to see
"There's the one who dealt with the devil!"
    She was banished by decree.
The prince she deceived sent her far away
    To a land where no devil lingered
But every night poor Ariane
    Dreams of a man burnt-fingered.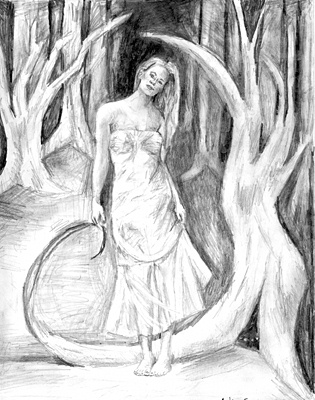 © Andrea F. Philadelphia, PA,